| | |
| --- | --- |
| Posted on April 3, 2013 at 5:20 PM | |
I praise You, Lord, from my favorite predawn time, and I will give You the glory continually until the dark returns to put this part of the world to sleep for the night. Thank You Lord that You put a beautiful moon in the sky that reflects the light of the sun, so the people of earth can always see their path. That moon changes shapes as rotation occurs; it also changes size depending on other criteria, and it can appear huge on the horizon especially in autumn; awe inspiring, mesmerizing, with a red gold color, it sometimes sits there for us to admire ~ but just for a little while. Then it raises to its dominant place in the sky, returns to its usual size and grins in remembrance of its show that is finished for the night.
Jesus You are the Son reflecting the light of the Father. You bring light to cast out the darkness, so we can find our way to You and the Father. As we learn to relate to You, to follow Your light, we change. Our spirit changes its 'shape of understanding" as we grow. New "Ah Ha!"s are experienced until at the end the best revelation bursts out in joy as we pass from the earth to our true home in heaven. Our show is complete.
Jesus You died on the cross for us, so we are able to be with You and our Father for eternity. You chose suffering and an ugly death to bring us light. Jesus, thank You! You are sitting at the right hand of the Father now, and the Father has lifted us up to sit with You there.
Ephesians 2:6(AMP)
And He raised us up together with Him and made us sit down together [giving us joint seating with Him] in the heavenly sphere [by virtue of our being] in Christ Jesus (the Messiah, the Anointed One).
Jesus, my Lord, You are the intercessor; as we lift our hands in prevailing prayer interceding for our brothers and sisters, You take our prayers to the Father, and He hears our intercession.
Romans 8:34 (AMP)
34 Who is there to condemn [us]? Will Christ Jesus (the Messiah),
Who died, or rather Who was raised from the dead, Who is at the right hand of God actually pleading as He intercedes for us?
You provided us with everything we need to live a rich and joyful life here on earth. We just have to see You with eyes of understanding. You are the Word made flesh! Once we are born again, and our inner vision clears the way to truth, our eyes of understanding are expanded. Some are puzzled by the term "born again". Here is what Jesus said,
John 3:5-6
Jesus answered him, I assure you, most solemnly I tell you, that unless a person is born again (anew, from above), he cannot ever see (know, be acquainted with, and experience) the kingdom of God.
MSG 5-6
Jesus said, "You're not listening. Let me say it again. Unless a person submits to this original creation—the 'wind-hovering-over-the-water' creation, the invisible moving the visible, a baptism into a new life—it's not possible to enter God's kingdom. When you look at a baby, it's just that: a body you can look at and touch. But the person who takes shape within is formed by something you can't see and touch—the Spirit—and becomes a living spirit.
The spirit within each of us is opened up to a new revelation of who we are and Who Jesus is. Holy Spirit comes into us as a gift from Jesus. This infilling provides a new comprehension that changes perspective on everything. It creates a paradigm shift. It took Peter from the terrified apostle who denied Christ to a leader of the church who willingly died on a cross upside down considering himself unworthy to die as Jesus did.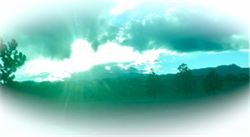 Jesus calls us to be ambassadors for His Kingdom. Let the world know! Live life as the moon reflecting the Light of the Son!
Categories: Helper God
/