BUILD YOUR OWN PERSONAL HIGHWAY TO GOD!
My stomach just sunk as I watched the news, but anger stffened my back and shoulders.
A young boy recently committed suicide, because he said he was gay and got bullied. He was too young to even know what "gay" meant; but in school they taught little children all about the unnatural gay agenda. I blame that boy's death on the evil being propagated in our schools now. This is the result of the LGTB given their evil right to instill their agenda into our children. Parents, we must take our schools back. The evil is spreading.
Use to be we felt like  we could trust our chidren to the teacher's care. Now kids are being taught all kinds of false information and liberal facts according to the liberal agenda; consequently,  we have more suicides and school shootings.
Praying:
Today Father, help us return You to our schools so that our kids are protected, and they can learn how to live right, to handle their own emotions with Your help, and they do not later become pawns to the devil's evil schemes.

.....................................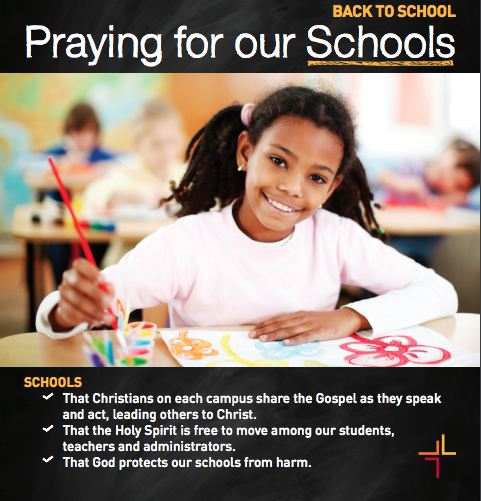 There is a huge wound in our nation; only You Lord have the power to heal it. The power of Your love cures. Anytime we gather together to celebrate the greatest love there ever was / is ~ Jesus, we can find a powerful joy to enfold the sorrow. Lord we ask You to put a shield of protection around the parents and families and close friends of the slain. The special difficulty of trying to be happy, while their insides are mourning has to be terrible. Hold them close to Your heart Lord! Loose Your love to enter into and to surround them.
Father, we know You have a plan and it will bring redemption to this land. Lead each of us to do Your will in our lives, because Your will extends to all in goodness and light. Let Your angels sing Your glory.
Father God, have Your mighty love shower upon every home in this nation, and shine through the special lights of joy bringing the true message of Salvation ~ that Your immense love for Your children brought our Savior to the earth. He came to erase evil and free us from satan's damnation. Only Jesus' gift can free the chains that bind us to sin. We accept Jesus as the King of our heart, and the Lion of Judah will free us today!
.......................................................................................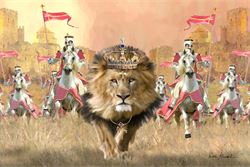 Let us all humble ourselves, repent and seek the face of God with all our hearts and souls! He promises healing to our land if we do. Our land is oozing sadness now, but God promises to bring His hand of love over us IF WE. . .
2 Chronicles 7:14 (AMPC) If My people, who are called by My name, shall humble themselves, pray, seek, crave, and require of necessity My face and turn from their wicked ways, then will I hear from heaven, forgive their sin, and heal their land.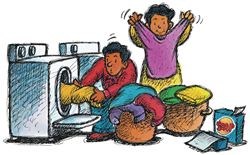 If you watch TV, at some point you must have seen those TV commercials advertising laundry detergent? See two stained shirts and with XYZ detergent the stains come out in the wash totally gone and "our little boy's shirt is like new". Well that brought to mind how our life works under Jesus. The other day I was journaling and Holy Spirit convicted me that what I was writing revealed pride in my heart~ sinful pride.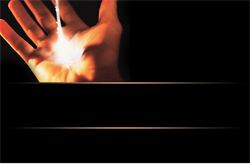 So I repented and began praising God and asking Him to:
"Shine through all the dross, the garbage covering my soul. Cleanse me. . .  "Then it hit me~ Oh, You already did that Jesus, on the cross. You cleansed all my sin away. I start afresh, new, a renewed person without stain or blemish. Along with that gift comes the automatic cleanse, so when I do make a mistake~ all I need do is truly repent with my whole heart, and the 'stain' disappears.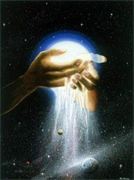 Holy Spirit, guide my thinking and my actions. Even though You Lord have made me new, I still have human nature that is working, and that nature once was ruled by satan. Now You rule me; I am Yours. You help me overcome the callings of my old nature. You have given me a paradigm shift that permanently changed my vision. I see now where the enemy is trying to lead my thoughts into doubt about Your goodness, Your faithfulness, Your love for me. It's at these times that I rush back to quiet time with You so my mind and heart can be refilled with truth. You take me to Your Word where truth is found:
Psalm 119:105 AMP   Your word is a lamp to my feet And a light to my path.
Psalm 16:11 NKJV
                                        You will show me the path of life; In Your Presence is fullness of joy; At Your right hand are pleasures forevermore.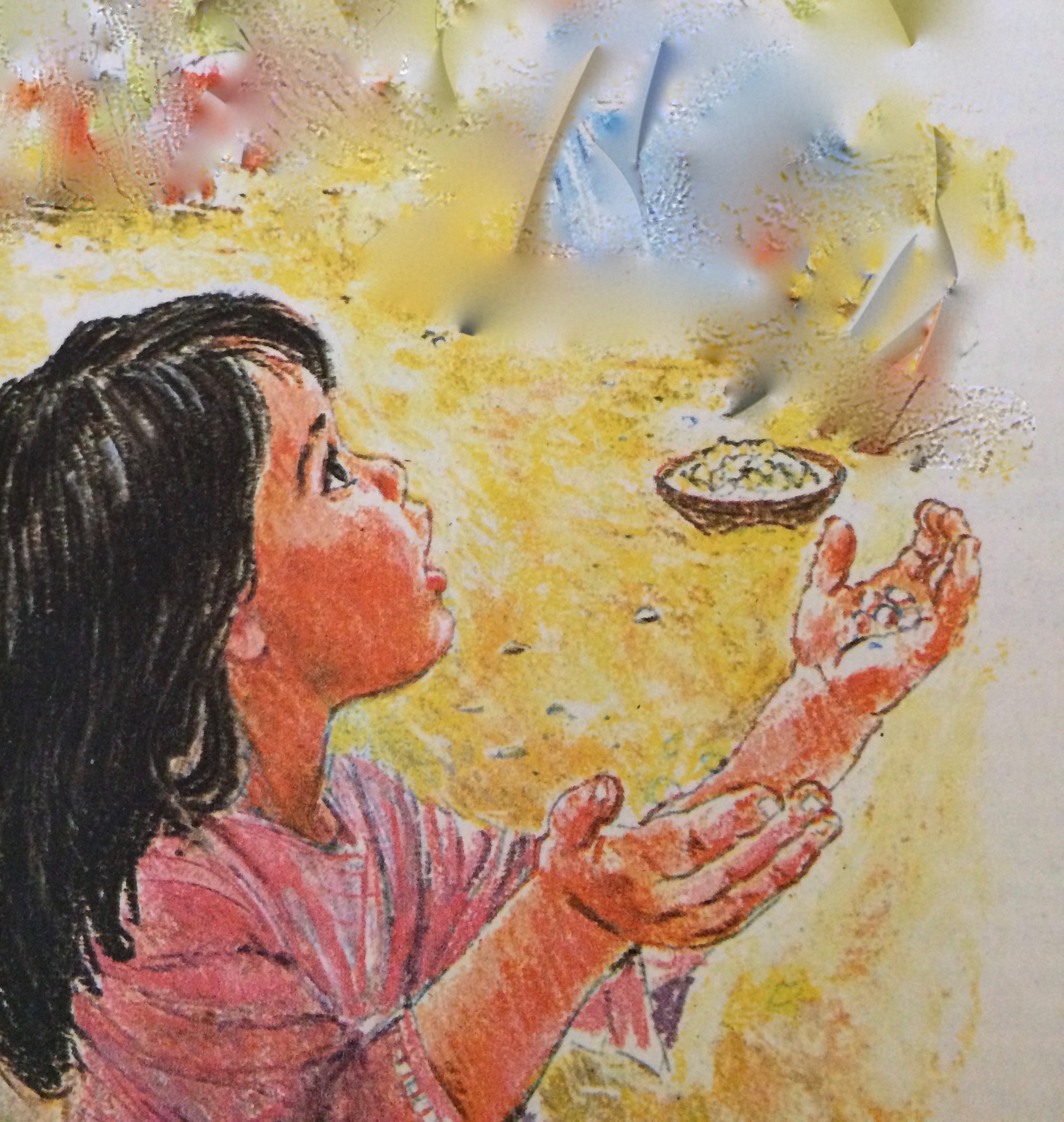 In the darkness and quiet of very early morning I come to You, Holy Spirit, bringing my typing fingers, writing my desire to sink ever deeper into You. From the depths of my soul rises a cry for more of You. I want to intermingle my spirit with You, because living close to You is my greatest need. You indwell me, and I rest in that joy. Sometimes You are the place I come when I need acceptance, convincing that I'm ok, doing Your will. Sometimes I am confident that I am doing Your will. Then there are days I feel unsettled about it, but I do not live by feelings, but by the Word of God. You are my touching point where I can reach out and experience You; where You, my God, enfold me inYour Presence.
In the Word You, Holy Spirit, bathe me in the truth and settle my heart. I belong to Jesus.
I belong to Jesus. My God brought me out of the world and translated me into the kingdom of the Son of His love (vs 13)
Colossians 1:9-14 (NKJV)
9 For this reason we also, since the day we heard it,
do not cease to pray for you, and to ask
that you may be filled with the knowledge of His will
in all wisdom and spiritual understanding;
10 that you may walk worthy of the Lord, fully pleasing Him,
being fruitful in every good work and increasing in the knowledge of God;
11 strengthened with all might, according to His glorious power,
for all patience and longsuffering with joy;
12 giving thanks to the Father who has qualified
us to be partakers of the inheritance of the saints in the light.
13 He has delivered us from the power of darkness
and conveyed us into the kingdom of the Son of His love,
14 in whom we have redemption through His blood, the forgiveness of sins.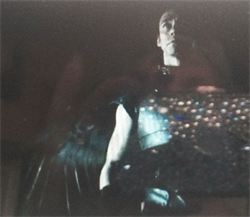 Thank You my holy God! You are always ready to satisfy my need. Your Presence in Your teaching brings joy to my soul.
Do you come to Him for guidance? Our God loves us so much and is always ready to help us. Do you ask?
.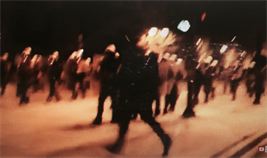 Holy Spirit, You are the One who can lead my life to victory in every area. Flow through me my God. Let my life be worship to You. Let my life be praise to You!
My friends around the world, there is so much turmoil all over. Is it confusing to you as to how to respond in a loving way to it all? I admit it is to me. Millions of refugees being driven out of their homes and needing life support with places to stay, food and water and work.
Holy Spirit, show us Your vision of the solution. This was no surprise to You, so it is part of Your end times plan. You gave me a warrior nature that wanted to fight for righteousness and justice. I remember my response in first grade to a battle in Hungary. Teacher asked who would want to go over there, and I raised my hand. I was willing at that tender age to fight for the right. Not practical, but my heart was willing. So Lord with an inborn warrior nature, what should be the loving response to the masses of Muslims fleeing ISIS?
"These are My sons and daughters fleeing for their lives. They are different from you. They do not worship Me, nor recognize the sacrificial gift of My beloved Son Jesus to pay their sin debt, and so they are condemned for eternity. This is an opportunity for you to love them and teach them about Me."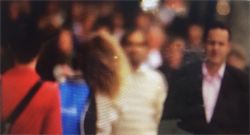 My friends from other nations, how are you responding to this great people migration? I know it must be difficult, but with God's help you can help turn it into a victory. I am praying for you: May your ears be open to hear God's Word speaking wisdom to you. May the love of Christ grow supernaturally in your willingness to be a part of God's end time plan. May you accept God's help in understanding His children, their needs, and their hearts.
There are those who see the enemy plans of planting their jihadist into this mass migration to the world to promote fear through terrorism and barbaric tortures. But God would say~
"You know My love. Treat them with My love. Let it flow through you to them. It is not easy, but your rewards will be great. I will lead you and give you words to speak, and actions to do. Fear not! Listen for My words to you and I shall be your guide. I am your Provider!"
Here in America at this time, we are not faced with hundreds of thousands of people seeking asylum in our part of the country. All we can do at this time is trust in You to lead and guide us, Lord. There may come a time of physical battle; Lord give me courage to do my part and the wisdom to prepare for it. But this is a time for me to battle with all the mighty power of prayer, so Lord open my eyes to see what area you want me to focus on in prayer. There are so many places in turmoil, so many people hurting. Thank You Lord for putting Your supernatural power into our prayers.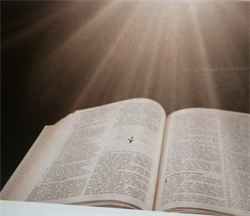 I lift up my brothers and sisters in Europe Lord and ask for Your wisdom to flow through them. Show them Your answer, Your way of dealing with the situation. Anoint Your ministers to go to the borders to be teachers and demonstrators of Your love. These masses do not know You and will be condemned if no one reaches out to them with Your love. Lord I pray that You will find workers to send to the harvest field to bring salvation to these people. These are the last days so time is short; bringing people to know You is a primary goal of Your heart. We call upon You, O Lord, to lead and guide Your ministering servants to this task. Bless them with finances and abilities, translators and hearts of love. Let Your Word be supernaturally spread like a wild fire through the masses!
Are you in a position to help? Do you see God's hand in what is happening? What is your vision of this unique situation?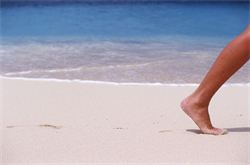 "Come walk with me, Mary, along the shores of the great sea," bid Jesus.
I readily accept His invitation. The wet sand is hard, yet our feet make slight indentations in it. . . until the waves come ashore and scrape them from the sand . . . and they're gone.
"Look behind you Mary; what do you see?"
"Clear beach," I respond, "no sign of our passing together."
Jesus shares, "When looking behind you, much has been scraped away, but keep your eyes focused on Me in your present, and what truths of the past you need will always be there."
"As we walk side by side, Mary, what do your ears hear?"
I smile, "Gentle waves climbing on the sand and drawing back, also mixing with their constant motion my ears enjoy the love, kindness, understanding, caring~ all in your voice. Here on this beach with You, my Lord, is peace and rightness."

Jesus smiles too, "Warm sun, cool breezes are blessings from My Father for you Mary. But will it be always like this? See the clouds on the horizon. What do you read from them?"
"Lord, they clue me in that a storm is brewing". Soon the gentle waves grow more aggressive; breeze transforms into fierce winds causing the palms to bow before their Creator. Ahh, Lord, should we look for shelter?
Jesus looks me in the eye, "Mary, what greater shelter do you require than to walk at my side?"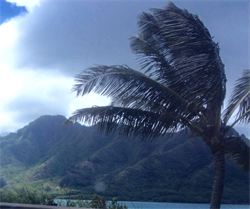 Yes, what indeed? This storm causes me to put all my weight forward in order to make progress against the wind; waves climb up my legs and rain pellets sting my arms and face. But as the tempest grows more powerful, Jesus holds my arm and steadies me. His eyes are confident and kind. My physical muscles may be less than they once were, but Jesus is my sturdy support. He has always been faithful and I trust Him in this storm to walk all the way through it with me.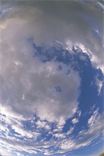 Psalm 16:8
I have set the Lord continually before me; because He is at my right hand, I shall not be moved.
Are you walking through a storm today? Are you trusting Jesus to support you all the way through? He is faithful, you know.

Matthew 28:20 (NKJV)
teaching them to observe all things that I have commanded you;
and lo, I am with you always, even to the end of the age." Amen.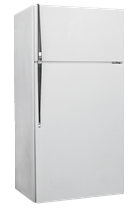 "Free!" The magic word, aye? I'd been wanting a new refrigerator, and on garage sale day there stood this pretty refrigerator with a "FREE" sign on it. Greed kicked in. I must have it! Quick before anyone else gets it! We scrambled to bring it across the drive to our patio. We got a new refrigerator! Yea! Thanks God!
In the back hidden down in my spirit was this niggling critter laughing at me. Uncomfortableness. Did I ask God about it? Or did I let a spirit of greed take over? I ask myself these questions now after we had a difficult time getting the new refrigerator in through our doors and the old one out.
Then the handles are on the opposite sides of the doors. (Haven't had time to switch them) So every time I go to get in the frig, I find myself grabbing for a handle that's not there. Oh yeah, the other side. It's habit displaying itself in plain view, and it reminds me of my reaction to the "free" sign.
What other habits keep me coming up empty? What happens when I disobey God? I see something I want. . . did I go to God and ask if it's good for me? No I acted according to the world. What if I am under attack of the enemy? Do I take it to God or try and figure it out on my own? I've still got a ways to go. It is difficult to break worldly habits, some more than others.
What does God say about habits? Some are good like~ the women who followed Jesus were in the habit of ministering to Him:
Mark 15:40-42Amplified Bible (AMP)
40 Now some women were there also, looking on from a distance,
among whom were Mary Magdalene, and Mary the mother of James the younger and of Joses, and Salome,
41 Who, when [Jesus] was in Galilee, were in the habit of
accompanying and ministering to Him;
Do I follow Jesus and focus on ministering to Him often praising Him
for His mighty love in saving me? Thank You Jesus!
This beautiful picture by Del Parson depicts Jesus habit of taking everything to Father God. Is that my habit?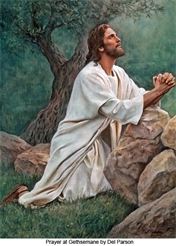 Luke 22:39 (AMP)
39 And He came out and went, as was His habit, to the Mount of Olives,
and the disciples also followed Him.
Jesus paid the ransom for our freedom from satan's clutches:
1Cor 7:23-24
All of you, slave and free both, were once held hostage in a sinful society. Then a huge sum was paid out for your ransom.
So please don't, out of old habit, slip back into being or doing what everyone else tells you. Friends,
stay where you were called to be. God is there.
Hold the high ground with him at your side.
Jesus is always with me, so with His help I can form new habits and do anything He calls me to do.The root of sinful self interest is in us all:
Galatians 5:18-21(MSG)
My counsel is this: Live freely, animated and motivated by God's Spirit.
Then you won't feed the compulsions of selfishness.
For there is a root of sinful self-interest in us that is at odds with a free spirit,
just as the free spirit is incompatible with selfishness.
These two ways of life are antithetical, so that you cannot live at times one way and at times another way according to how you feel on any given day.
Why don't you choose to be led by the Spirit and
so escape the erratic compulsions of a law-dominated existence?
I thought I was pretty well along this right path in eliminating the root of self interest, until this attack of demon greed showed up. Thinking back I see myself leaving the appliance there and doing preliminary work to bring it to our patio~ find a two wheeler etc. And if it were still there, get it.
The reality was this round eyed little Gollum creature putting my arms around the appliance. . . "my precious". LOL!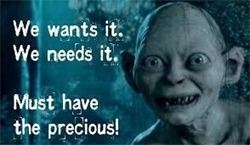 How ridiculous! If God wanted me to have it, He would have saved it for me and made all things easy. I did not have to fear someone else would get it.
I'm sorry Lord, I did not come to You first. instead of just thanking you for blessing me with a new refrigerator, I let the ways of the world control the situation; I missed a real blessing there. I repent.
When was the last time you acted out of habit in the world's ways? Did you recognize it?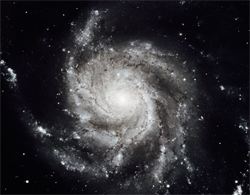 "A bad diagnosis. Will eventually disable the body resulting in death". Western medicine has no healing treatment for it. OK. How do I deal with that? Count on them being wrong? Or count on God loving me?
The sky is dark as it can get~ except for the stars. I blogged about the beautiful starry sky we shared~ my friends and I. We were out away from city lights and so it was pitch black except for the moon and stars. Magnificent!
In the city the lights dim the stars and hide some, but away from man made light, when the sky can be black velvet, the moon is queen of the heavens and the sparkling diamonds are her court.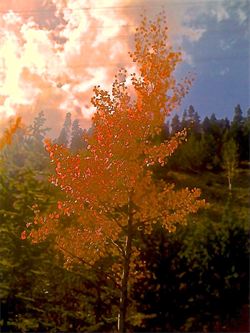 It's the story of God's promises too. When we are faced with challenge, the blacker it feels, the brighter are His promises. So I search His promises and I find His written Word says:
1 Peter 2:24-25
He personally bore our sins in His [own] body on the tree [as on an altar and offered Himself on it], that we might die (cease to exist) to sin
and live to righteousness.
By His wounds you have been healed.
 
25 For you were going astray like [so many] sheep,
but now you have come back to the Shepherd and Guardian of your souls.
Matthew 10:1 And when He had called His twelve disciples to Him,
He gave them power over unclean spirits, to cast them out, and
to heal all kinds of sickness and all kinds of disease. 
Then I read in GPAN~ "The price has been paid so freely for you and me. We are walking in Jehovah Care eternally. Jehovah cares for us and He has set us free from every sickness, every bondage, and every infirmity."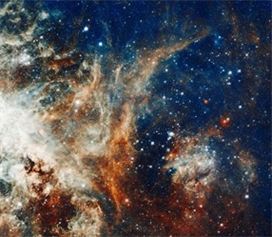 That struck me, because I talked with my Lord some time ago about this situation and He responded,
"I will take care of you".
So this was a confirmation of the promise God spoke to me. The star just got an added sparkle in the darkness brightening my starry God-pledge even more.
My friends, if you have admired, praised God for, or were filled with His glory in an exquisite dance with the stars, let it be a reminder to look for His promises when faced with a dark night.
Luke 6:47-48 (AMP)
47 For everyone who comes to Me and listens to My words [in order to heed their teaching] and does them,
I will show you what he is like:
48 He is like a man building a house, who dug and went down deep and laid a foundation upon the rock;
and when a flood arose, the torrent broke against that house and could not shake or move it,
because it had been securely built or founded on a rock.
"We don't have a cure for it, you know", said the doctor. Facing down fear is not a new battle for me. Knowing the enemy wants to get rid of me only makes me smile, because I know the God we serve, my friends. He is huge, bigger than any mountain and He loves me and you! Absolutely nothing is a true threat when we know WHO is with us always. During times when the enemy has tried to hurt me, the Lord is a stanchion. When the enemy attempts to besiege me, the Lord is my High Tower! I call upon the Lord and His Word. Challenges sometimes come through my kids, because I love them so much and want to protect them. But God has them in the palm of His hand too.
When a hostile threat comes against them, I go to the Lord and lead them there as well. His Word is a dominant force against evil.
Psalm 138:8 (AMP)
The Lord will perfect that which concerns me;
I trust His Word and He never fails me.
Having learned to stand on God's love for me and His Word, I am mostly at peace now. A personal strike by the enemy on my health became not an anxiety, but a time of waiting to see how God wanted me to handle it. That un-curable disease is now gone. He used it to teach and strengthen me.
That enemy wants us to see him as huge and powerful, but put him next to Jesus, and he shrinks down to his true size. Jesus taught me (as seen in past blogs) to keep my eyes on Him, focus on Him never on the 'mountain'. Don't tell God about your mountain; rather tell your mountain about your God!
Have you encountered "mountains" that threaten your faith?
Jesus, You are my teacher, my life coach. You have all my trust. That I am here on this ledge is proof of that. It's not that I am brave, it's that I trust You. Jesus looks at me kindly saying gently, "There are many days ahead where you will walk along this ledge, Mary. Know that You are also walking in the hand of your God. Each crevice is just a crease in His palm. Never fear! "
John 12:44-45 (NLV)
44 Then Jesus spoke with a loud voice,
"Anyone who puts his trust in Me,
puts his trust not only in Me, but in Him Who sent Me.
45 Anyone who sees Me, sees Him Who sent Me.
I like that~ traveling on the hand of God. The journey is long and arduous physically, and challenging to my soul. It's like refining gold~ the ore must be heated to just the right temperature to bring up the impurities so they can be removed. You want to make me pure gold so my life can glorify You. I like that, but somehow it does not sound like a picnic in the park in Springtime.
Suddenly I find myself back on the ledge with the same question: do I go back or go forward? There's at least another hour before dark, so I get ready to go forward. Here I can walk more quickly as the trail is wider. Praising God and singing a melody helps keep the mind from fear as the next curve appears. It's the unknown that can strike terror into hearts, so it's good that I know God is by my side. As my feet seek the nearest spots by the rock, my eyes search for what's ahead.
The sun is nearly down. The ledge narrows again. O God, help me. Rapid heart rate, shallow breathing, my body reacts to the negative thoughts of the approaching darkness and the steep drop off.
Isaiah 27:4-6 (AMP)
Wrath is not in Me. Would that the briers and thorns
[the wicked internal foe]
were lined up against Me in battle! I would stride in against them;
I would burn them up together.
I lean into the Rock. Jesus, You are with me. This is Your trail and it's scary, but I can trust in You.
Deep breath, walk. I force my feet to move as quickly as possible, trusting that even though my eyes see nothing but cliff ahead, Jesus will have a place prepared to spend the night.
What do you do when a good solution to a problem seems impossible?
Even though it was scary, I decided to take the ledge with Jesus. With a deep breath relaxing my body, a prayer for His protection, a call to Holy Spirit to guide my thoughts, I step out. It's wide enough at the beginning for me to walk natural and keep my focus on the trail ahead, not on the drop off. Rounding the first bend the trail continues but I can see it narrows at the next curve. My focus is on Jesus and our first climbs and how He led me with His light. OK. Deep breath. Walk. Focus. Turning sideways I take smaller steps and lean into the rock as I round the curve. I see it goes on quite a ways.
O Jesus, what are You teaching me here? "Mary, I never said it would be easy. Trust Me." Jesus, I trust You. When I got tired on the climb, You told me I could do it. If You sent me on this trail, You knew I could do it and You will enable me to finish the course. I trust You. Around the next turn the ledge widens again and there's even a place to sit and rest. Jesus is there, "In your journey I provide rest when you need it. Trust Me. Drink and be refreshed."
John 6:35 (AMP)
Jesus replied, I am the Bread of Life.
He who comes to Me will never be hungry,
and he who believes in and cleaves to and trusts in and
relies on Me will never thirst any more (at any time).
Somehow, I believe it was not the water bottle He was talking about. From this space I could see the ledge continuing with no end in sight. I cannot stay here, I must either go on or go back. Night was not too far away. What do I do?
Do you come to places where You must either trust God and go on, or give up and return to safer territory?
Walk with me Mary, Jesus calls. He takes us up the steep path towards the top of the mountain. It is a struggle and my muscles get tired, lungs begin gulping air as oxygen thins. Physical stress test. . . why Jesus? "Nothing of value comes easily" OK, but can we rest for a minute?
Is it worth it I ask myself? Muscles screaming now; get up, because I am not a quitter. I will not quit this climb to the top. Jesus hears my thoughts. "What is the top, Mary? In your heart, what is it you are striving for?" (This is a question to ponder) I am following You Jesus, to the top of wherever You lead me. He looks at me and responds, "Ahead is a fork in the trail. It's time for you to lead."
Jesus, tell me which way to go. I will be obedient. But He is gone. I can no longer see Him. Sure enough, around the next bend in the trail is a split.
One way leads to a ledge that is not all that wide and I cannot see around its bend. To the right the trail continues up; it is still steep but safe. Oh Jesus, You do know how to challenge me, don't You? Somehow, I know He wants me to take the ledge, because I do not like heights and I have to trust in Him for my safety.
OK Jesus, I'll take the ledge; a deep breath relaxing my body; a prayer for His protection; a call to Holy Spirit to guide my thoughts; I step out. It's wide enough at the beginning for me to walk natural and keep my focus on the trail ahead, not on the drop off. Rounding the first bend the trail continues but I can see it narrows at the next curve. My focus is on Jesus and our first climbs and how He led me with His light. OK. Deep breath. Walk. Focus. Turning sideways I take smaller steps and lean into the rock as I round the curve. I see it goes on quite a ways.
O Jesus, what are You teaching me here? "Mary, I never said it would be easy. Trust Me." Jesus, I trust You. When I got tired on the climb, You told me I could do it. If You sent me on this trail, You knew I could do it and You will enable me to finish the course. I trust You. Around the next turn the ledge widens again and there's even a place to sit and rest. "In your journey I provide rest when you need it. Trust Me. Drink and be refreshed." Somehow, I believe it was not the water bottle He was talking about.
John 6:35 (NLV)
Jesus said to them, "I am the Bread of Life.
He who comes to Me will never be hungry.
He who puts his trust in Me will never be thirsty.
From this space I could see the ledge continuing with no end in sight.
I cannot stay here, I must either go on or go back. Night was not too far away. What do I do?
John 12:45-46 (NLV)
45 Anyone who sees Me, sees Him Who sent Me.
46 I came to the world to be a Light.
Anyone who puts his trust in Me will not be in darkness.
Do you come to places where You must either trust God and go on, or give up and return to safer territory?
All praise to You Lion of Judah! My Jesus, You made it all possible. Joy is possible because of You. Thank You. Holy Spirit, You are here and I don't know all the divine intricacies of how it all works with my Triune God, nor do I need to. What is, is, and I'm so glad it is! I live life with God indwelling me; now I just need to bring that truth fully into the core reality of my being. . . grab each moment retrieving it, subjecting it to this truth, living it completely as Holy Spirit directs. Sounds real spiritual doesn't it?
Reality check! Life is so busy now that once my quiet time with the Lord ends, time takes over~sometimes feels like I'm a robot with time as the controller. How to redirect that? OK. Pressure is off for a little while. Holy Spirit, I open myself to Your guidance . . .
Holy Spirit Your desire is to make me more vulnerable to You by burning off the calluses covering the wounds of my life. Every hurtful comment, every painful memory, every rejection, every sore scrape of 'not good enough' have scabs or calluses of protection which close up love of God from going in and coming out. You are calling for permission to burn these guards off the emotional vulnerability of my soul. Oh ouch Lord! That's really hard. You want me to trust You to shield these painful places, to heal them.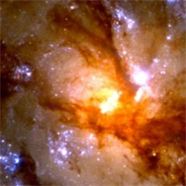 Oh God! Leave that room of misery and heartache I've worked so hard at sealing up, in Your hands? You want to unseal the door? You say Your love can heal if I permit You to take off the calluses and scabs? You ask me to be vulnerable to You and to trust You?
My God I promised to submit to You, and if You tell me this is the next step, then in fear and trembling I'll give my permission to You. It's not easy, but I know if You say it is necessary, then it is. I shall trust You and Your love for me; I bow down in worship before You.
SEARCHING FOR A CLOSER WALK WITH GOD
DIGGING DEEPER
Sometimes the terrible awesomeness of God hits me and sends me reeling into deep meditation. It always carries its reward of a new closeness with my God. It happened this morning. In the beginning I was distracted with my mind wandering here and yon. Then I 'woke up' and commanded it to return. God is so good! Holy Spirit began to lead me in prayer.
Sorry, my Lord. I come to our meeting this morning with scattered thoughts; help me, Lord, to rein them in. That You even desire to meet with me is so amazing! Deep breath. Moses asked God, "what shall I say when they ask 'Who sent me'?" You responded, "Say the Great I AM sent me." You, God, are not hemmed in by time. For You there is no 'was, will be', there is only I AM. Before You I bow down my heart, my 'who I am' I submit to You; help me become who You created me to be.
Exodus 3:13-14 (AMP)
13 And Moses said to God, Behold, when I come to the Israelites and say to them, The God of your fathers has sent me to you, and they say to me, What is His name? What shall I say to them? 14 And God said to Moses, I Am Who I Am and What I Am, and I Will Be What I Will Be; and He said, You shall say this to the Israelites: I Am has sent me to you!
Footnotes: Exodus 3:15 To know the name of God is to witness the manifestation of those attributes and apprehend that character which the name denotes.

Can you feel the depth of that name? 'I AM' signifies so much ~ timelessness, absolute love, supreme power, unimaginable expansion ~ an incomprehensible being, totally surrounding. There simply are not words to express the grandness of Who our God is. HIS LOVE FOR US S SO APPARENT IN HIS WORD!
Psalm 91:14 (AMP)
Because he has set his love upon Me, therefore will I deliver him; I will set him on high, because he knows and understands My name [has a personal knowledge of My mercy, love, and kindness—trusts and relies on Me, knowing I will never forsake him, no, never].
Isaiah 52:6 (AMP)
Therefore My people shall know what My name is and what it means; therefore they shall know in that day that I am He who speaks; behold, I Am!
Indeed my God! You are the great I AM! This measures so deep and so high and so wide. You revealed Your staggering magnificence to David, and it comes out here:
Psalm 139:1-10
O Lord, you have examined my heart
and know everything about me.
2 You know when I sit down or stand up.
You know my thoughts even when I'm far away.
Even when it's my mind traveling on tangents.
3 You see me when I travel and when I rest at home.
You know everything I do.
4 You know what I am going to say
even before I say it, Lord.
5 You go before me and follow me.
You place your hand of blessing on my head.
6 Such knowledge is too wonderful for me,
too great for me to understand!
7 I can never escape from your Spirit!
I can never get away from your presence!
8 If I go up to heaven, you are there;
if I go down to the grave, you are there.
9 If I ride the wings of the morning,
if I dwell by the farthest oceans,
10 even there your hand will guide me,
and your strength will support me.
You are always with me.
You will guide me.
You will always be my support. Your strength
upholds me, protects me, supports me.
Lord, You are so good! What a privilege to know You! Thank You that You continue to grow me closer to You. Thank You! I love being together with You, my Lord.
/