BUILD YOUR OWN PERSONAL HIGHWAY TO GOD!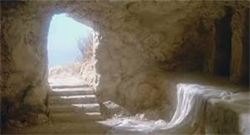 Easter Day comes then is gone. But the truths it contains will never "be gone". It's not about Easter bunnies and pretty colored eggs. It is more like Springtime and new life. Jesus came to bring new life to us. And that word "new" is not just a concept like new clothes to wear. It's totally "new" like regenerated, new, like new life growing in the womb. When Jesus said we must be 'born again' to Nicodemus, a member of the Sanhedrin of Jesus day, he asked, "can a man climb back into the womb?"
No, but Jesus came to make us new creatures. Before Jesus, we had a sin nature which made it very difficult if not impossible to live a pure life. Adam's betrayal of God and his resulting sin nature came down through the blood line to all of us tainting our very DNA.
When Jesus came, He first prepared us for our new life by teaching us about the Father and His magnificent love for each of us. Then He offered Himself up as the required sacrifice to pay our sin debt. He went through betrayal, scoffing, mental torment, an object of men's hatred and scheming. Though totally innocent of any sin (His Father was not Adam, but the Holy Spirit, so He did not have Adam's blood to infect Him). Yet He stood before human judges and submitted Himself to their scorn.

He was scourged mercilessly, tied to a pole while pieces of His flesh were torn away by the sharp nails and bone bits at the end of the whip. The Roman soldiers were pros and knew how to inflict the worst pain possible. Then Jesus' bloody body was made to carry the tree of His crucifixion up to Golgotha outside the city.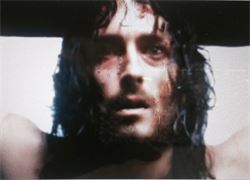 There again they pounded nails through His wrists where all the nerves endings were, once more inflicting the most excruciating pain. Then they lifted the cross up planting it in the ground so His body hung by it's wounded flesh. He hung for three hours during which the thick curtain in the temple that covers the MosOHoly Place was suddenly torn in two, symbolizing that now there was full access to our God. Jesus death fulfilled the many prophesies written about it in the Old Testament. The final one just before He died when He said, "I thirst", and they wet a 'sponge' with sour wine and lifted it to His mouth~ 
John 19:28-30
After this, Jesus, knowing that all was now finished, said in fulfillment of the Scripture, "I am thirsty." 29 A jar full of sour wine was placed there; so they put a sponge soaked in the sour wine on [a branch of] hyssop and held it to His mouth. 30 When Jesus had received the sour wine, He said, "It is finished!" And He bowed His head and [voluntarily] gave up His spirit.
After suffering this horrible price to pay off our debt, Jesus rose from the dead three days later.                          
                                                            Easter Sunday!
What a joyful time! It was such a delight to His friends, and to all of us! Jesus, our Savior, has freed us from the chains of the enemy.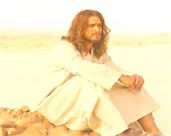 We are free to choose Jesus' gift of redemption and have Him live inside of us. As Lord of our life we have a helper, a teacher, a comforter as our personal guide through our lifetime. It offers us the opportunity to know our God, to develop an intimate relationship with Him, for we are made new creatures with God's DNA; when we  repent and choose Jesus as Our King of our hearts; we are washed free from the old sin nature. We are God's kids full and complete because of what Jesus did. We have been born again truly. Our nature is changed from satan's nature to Our Father GOD'S nature ~ we are truly reborn with Your (God's) nature, completely Your Kids!
So, yes Easter is the perfect time to choose our Savior as the KIng of our hearts.
1 John 3:9 The Passion Translation (TPT)
9 Everyone who is truly God's child will refuse to keep sinning [a],  because God's seed [b] remains within him, and he is unable to continue sinning because he has been fathered by God himself.[c]
Footnotes:
3:9 The Aramaic can be translated "never serves sin."
3:9 This is the Greek word sperma, "male seed." See 2 Peter 1:4.
3:9 Or "born of God." We have been fathered by God himself and we carry His DNA, His genes
Our new relationship with our God is so beautiful! We come to know Him in a one-on-one way, growing in love with Him as a response to His marvelous love for us. This enviable connection is open to us by choice. His love flows to us and through us enabling us to grow into more loving people. It is the ultimate answer to the chaos in our world today. Come my friends, I invite You to know the love of our wondrous God! You can choose now. You can have it all!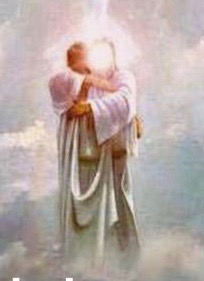 We have spoken of Jesus trials and His will to pay our sin debt. It all started at the beginning when Adam chose to believe satan rather than God. It was high treason requiring a death sentence. Satan laughed at his conquest thinking it totally ruined God's plan of having human beings to spend eternity with Him.
However, God is God, and He had a plan to counter satan's attack. A man committed a treasonous act against a deity; the penalty must be paid by a God-man. So Jesus, Son of God, chose to give up His divinity and come to earth as a fully human being.
Jesus lived and taught us about the loving nature of the Father, and about His will. When Jesus came to the cross at the end of His earthly life, it was the culmination of His life purpose. Why so willingly? [Quote from BSF study on John 18] It was the whole purpose of His earthly life. Jesus came to earth to bind His loved ones to Himself and to His Father with cords of love. It cost Him His life, untold sufferings and humiliation to deliver His people [that's us] from the power of evil and give them/us eternal life.
We celebrate His death and Resurrection on Easter. Hanging on the cross, Jesus last words were, "It is finished", and all the prophesies had been fulfilled. Then He bowed His head and died.
Romans 3:21-24 (MSG)
. . .The God-setting-things-right that we read about has become Jesus-setting-things-right for us. And not only for us, but for everyone who believes in him. For there is no difference between us and them in this. Since we've compiled this long and sorry record as sinners (both us and them) and proved that we are utterly incapable of living the glorious lives God wills for us,
God did it for us. Out of sheer generosity he put us in right standing with himself. A pure gift. He got us out of the mess we're in and restored us to where he always wanted us to be. And he did it by means of Jesus Christ.
Jesus had preached that He would rise again in three days. The rulers were afraid Jesus friends would attempt to steal His body and say He rose; so they stationed guards at the tomb. But despite their unbelieving actions, on the third day, Jesus did rise from the dead!!
Hallelujah! . . . . . . HE IS RISEN!. . . . . . . .Hallelujah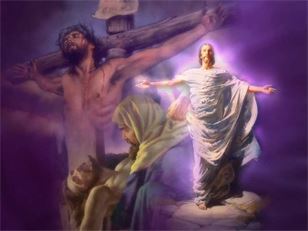 It is the final proof of His divinity. His last days including it's ending scene were planned and carried out at God's direction. What joy filled the hearts of His disciples and friends!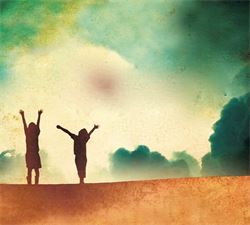 He is risen!
Joy fills our hearts too, because now we are free! Jesus, the Son of God, freed us from our bondage to evil. We are able to choose a life lived according to God's Love, and we know that is the best. He loves us so much, that we can entrust ourselves completely to Him.
It is such a good life with Jesus who now can live in us! Settle on Jesus, alive forevermore and live with Him alive in you and me! Alleluia!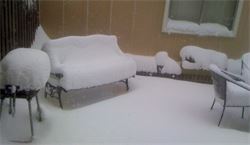 Thank You Lord for the wonderful gift of moisture You sent in those white fluffy snowflakes; they piled up and made artifacts out of common objects. So pretty. (Sorry to all the folks that were inconvenienced, truly; I have always loved the miracle of snow. God is so good. He has many ways of watering the earth, this just happens to be one of my favs!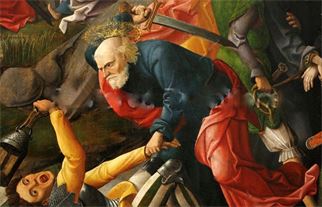 Easter is just days away now; and in Jesus time, He was busy preparing His disciples for what was going to happen. Even on that fateful eve when Jesus received the Judas kiss, the Shepherd made sure all His friends were safe from the soldiers, especially Peter, who drew his sword against the attackers. Only then did Jesus go with His attackers.
Why so willingly? [Quote from BSF study on John 18] It was the whole purpose of His earthly life. Jesus came to earth to bind His loved ones to Himself and to His Father with cords of love. It cost Him His life, untold sufferings and humiliation to deliver His people [that's us] from the power of evil and give them/us eternal life.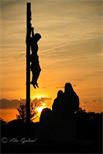 While Jesus was taken, bound as a criminal from one trial to another, it is impressive that He kept control with dignity and integrity showing it was His will. He countered Annas' illegal questions with truth and the same with Caiaphas. Jesus allowed all the beatings and humiliations to be heaped upon Him for you and me. The scourging He took for us was awful. Here is a description:
Mark 15:15 I.e.
whipped with a short whip of metal-tipped leather thongs. There was no limit to the number of lashings. Frequently, the body was so lacerated that the intestines gushed out. It was not uncommon for a prisoner to die from scourging.
Jesus was willing and determined to free us from evil's hold. Our sin nature had to be replaced with a righteous nature if we were to live in eternity with Jesus and the Father. God loved us so much that he was willing to submit His totally innocent self to this painful torture and degradation.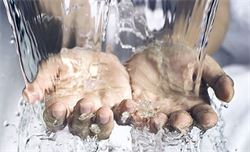 Now it's up to us. If we choose to welcome Jesus as Son of God, Savior; and we repent of our sins accepting Him as Lord of our lives, it causes a paradigm shift to occur. We have a new birth, become new creations with God's nature of blameless honor and integrity. Sin is washed away, and if we do make a mistake, the sin is gone as soon as we repent.
2 Corinthians 5:17
Therefore if anyone is in Christ [that is, grafted in, joined to Him by faith in Him as Savior],
he is a new creature [reborn and renewed by the Holy Spirit];
the old things [the previous moral and spiritual condition] have passed away.
Behold, new things have come [because spiritual awakening brings a new life].
As we live under Holy Spirit presence, we learn to live as Jesus lived; He is our model. Our behavior becomes a willingness to submit our will to God's love. We are new creations! And joy abounds!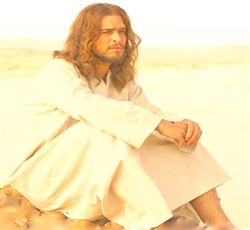 Easter approaches on swift wings of time; and as we celebrate this beautiful season, prayers of love and thanksgiving are offered to Jesus, the Son of God, who gave up His divine heritage to become fully human. Why would He do this? He knew His end before He began living this choice, and it meant separation from His Father and a painful death. So why?
There is but one reason: God's love for us required the sacrifice to atone for original man's treason against God Almighty. Without divine atonement, man could never go to heaven to be with God for all eternity. The sin would exempt him from ever being close to God. That was the enemy's evil scheme to ruin God's creation plans for mankind.

But Love in His heart compelled Jesus to choose to save us. Soon we will celebrate God's magnificent love and power that redeemed us. We repent for our sins that painfully scarred Jesus flesh and put Him on the cross to die. Then Easter morning we will rejoice at His resurrection! We have been redeemed!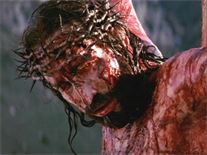 My friends, let us prepare our hearts by meditating on the immense love that God has shone us. Father sent His Son to be beaten and crucified to fulfill the legal obligation of the debt of mankind's sin. He loves us enough to suffer excruciating pain so that we could be with Him for all eternity. Now our choice to accept this wondrous gift opens the door to eternity for us.
Choose to accept Jesus' gift and enjoy an eternity of knowing God from then on, never being separated from Him!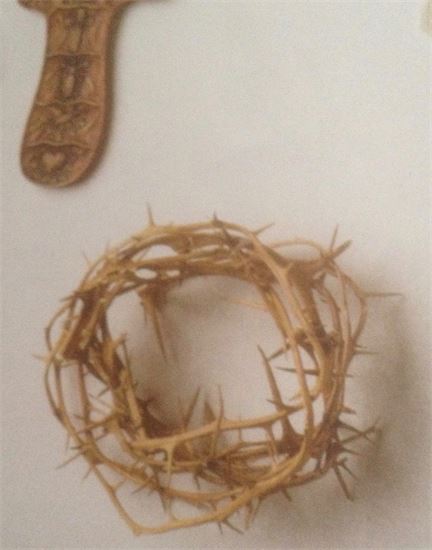 Easter and Good Friday are fast approaching. It is the time when our Savior, Jesus Christ, suffered excruciating pain of a cruel whip tearing His flesh apart, of being stripped and unjustly vilified, of being dragged from place to place, a crown of thorns painfully pushed into His skull. Our Jesus was betrayed by one of His own apostles for thirty pieces of silver. As I meditate on what happened to Him, I am picturing also the babies who are undergoing excruciating pain as they are murdered in the womb. They too are sold for blood money at Planned non-Parenthood.
Why is it still continuing? Are we so shallow that we convince ourselves to believe the lies of the enemy rather than the truth? God created a miracle, a new life, and we are so jaded as to not just deny it, but to murder it? We are so selfish to not want the inconvenience of a child, so we kill it?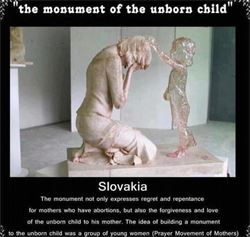 My heart breaks for the women who have had abortions in the past and are suffering for it now. They believed the lies of the enemy. Know, my friends, that Jesus died for you; He has forgiven you, now you must forgive yourself. Accept Jesus gift of redemption, and ask Him to be Lord of your life now, if you have not done it before. His grace will be with you to help put your life on track for fulfilling the potential God placed in you at birth.
Ephesians 1:7 AMP
In Him we have redemption [that is, our deliverance and salvation] through His blood, [which paid the penalty for our sin and resulted in] the forgiveness and complete pardon of our sin, in accordance with the riches of His grace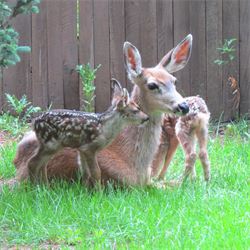 Easter is the time of new birth. The whole earth rejoices! Flowers are peeking their heads up through the ground. Baby bunnies and other new born creatures are appearing. It is also the new birth for our souls and spirits. Jesus sacrifice brought you and I the opportunity to accept His redemptive grace and become new people.
2 Corinthians 5:16-18 (NKJV)
Therefore, if anyone is in Christ, he is a new creation; old things have passed away; behold, all things have become new. 18 Now all things are of God, who has reconciled us to Himself through Jesus Christ, and has given us the ministry of reconciliation,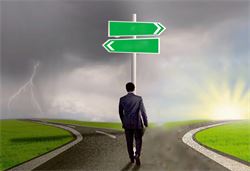 When we embrace Jesus and His Lordship over our lives, we do indeed become new creations. This is a great time my friends to choose a new life of grace and love. God loves us so much, He sent His Son to endure much so we could gain eternal life. That begins the second we turn to Him and embrace His heart's love for us. It is a wonderful life indeed! Come, my friends, choose love now.
Peace and joy. Wonderful time together with family Sunday at our Easter celebration! I love being together with our family.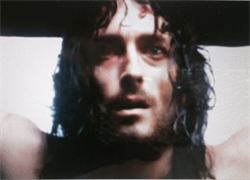 With the rush of holiday prep now past, my mind returns to the events of Jesus' life~ thinking of Jesus and His family and friends. How sad and hurting they must have been after watching Jesus be tortured and then hung on a cross to die! How they must have been suffering with Him. When I know a loved one is hurting, my heart feels the suffering too.
Can you imagine His Mom and dear friends watching as the blood poured down His face from the crown of thorns, His beaten back like flailed meat, His weakness as He tried carrying the wood up Golgotha. My stomach tightens just thinking about having to watch such agony on my dear Savior's face. Then His outcry as they hammer nails in the tender spots of His palms and feet and raise the cross perpendicular. After all prophesies were fulfilled, with His final words, "It is finished", His head falls and He dies. Perhaps His family feels relief that His suffering has ended. They wrap the body with spices according to the Jewish custom and lay it in the tomb.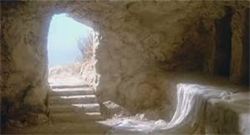 Friends and family gathered together to try and support each other. Early on the first day of the week, Mary Magdalene left and went to the tomb. Imagine her shock when she observed the humongous stone was rolled back and Jesus' body was gone! She ran back to tell the others, who then speedily hurried to the tomb. Sure enough, the grave clothes were there but Jesus was gone.
[(John 20:7) Bible Comment :Jesus either caused the tight linen wrappings to fall from His body miraculously or His resurrected body miraculously passed through the linen wrappings, leaving them just as they were where He was lying (except for the face-cloth), unlike Lazarus who emerged from the tomb and had to be released from the wrappings. In either case, the grave wrappings would collapse on themselves on the flat surface of the slab where His body had been placed. The text also indicates that Jesus may have removed the face-cloth Himself once His hands were free, and neatly placed it apart from the other wrappings.]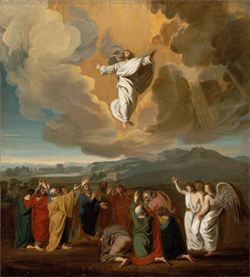 Jesus had arisen from the dead! He was alive! What joy filled their hearts! Jesus appeared to them a number of times continuing to teach them until He ascended into heaven to rejoin His Father.
That, dear friends, is where we too can choose to be after our earthly days come to an end.
My friends, I pray: May Easter come alive in your life!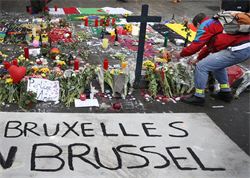 When we were kids we would sometimes go to Canada for vacation. One of the differences we found there was the butter: It came in a clear plastic bag; it was white but had a dime sized dot of orangish dye in the middle. We would have to squeeze the bag continually until the orange was dispersed and changed the butter to a yellow color.
Squeezing the butter compares well to the spirit of evil and destruction becoming more and more active in our world today.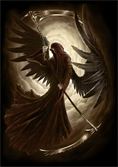 This evil spirit has a goal to take over the world with fear and violence as happened in Paris and now in Brussels. The devil is squeezing it's odious dye of hatred with wicked abandon, spreading its malignancy everywhere it can. its deceitful lies are infecting many people of today as it tries to adopt them into it's camp of diabolical malevolence.
Evil has been around since the sin of Pride tempted Lucifer to defy God. He was booted out of heaven and now we must open our eyes to see what is really taking place in this world. It's another level of seeing~ seeing into the realm of the spirit, for the evil ones are active in their work to seduce any vulnerable people they can find. However, this is not a lost cause! God has brought forth His plan of victory!
We serve a mighty God who never has been caught unaware, and never will be. From the beginning God had a plan to save us from evil. He sent His very own Son to earth to teach us about Him and to take on our punishment due for our sins. This weekend we celebrate Jesus suffering and dying for us then rising from the dead and overcoming the evil one. Evil thought he had won, but the victory goes to Jesus!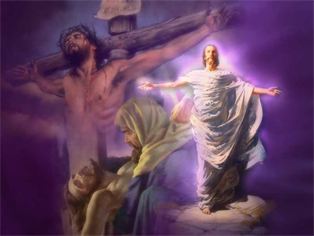 Easter is a celebration of freedom! Jesus won this freedom for us. Sin no longer binds us when we choose to repent of our sin and invite Jesus to be Lord of our life. Goodness will rule our life instead of treachery. 
John 3:36 (AMP)
36 He who believes and trusts in the Son and accepts Him [as Savior]
has eternal life [that is, already possesses it];
but he who does not believe the Son and chooses to reject Him,
[disobeying Him and denying Him as Savior] will not see [eternal] life,
but [instead] the wrath of God hangs over him continually."
Jesus came and made a tremendous sacrifice of pain and shed blood to bring this freedom to us. So it's up to each individual now to choose to accept His gift or not. In the Old Testament God says, "Choose life". That is what makes complete sense to me. I choose Jesus as my Savior, my Lord, and my God. Life is good in God's care.
If you have not made the choice, please give it close consideration now. This Easter is a good time to reject the lies of the enemy, find truth, and live a bold life on earth and enjoy a wonderful eternity! Brussels is a reminder that we never know when our time to pass into eternity will come.

My cell phone just blew an alert; I thought I had deleted alerts for today. The thought pinging through my mind was: 'sometimes it just has a mind of it's own'. Then it dawned on me~ I wonder if sometimes I seem that way to Holy Spirit. He teaches me and guides me and I try and follow His directions, but other times I go off on my own and forget to consult Him~ I have a mind of my own.
But that is not what I truly desire. I want to always travel in Your direction Holy One! I do not want a mind of my own~ I submit myself and my mind to You, Holy Spirit, to direct it according to Your ways, to honor You! It is my yearning to cling to You like a child to its mom. I want to expand my spirit to touch You and feel Your touch in me.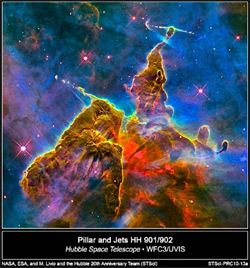 Lord, I sense Your majesty in the night time sky; it has a special way of bringing awe to my soul. On a beautiful starry night it's like looking up and seeing forever. God who always was and always will be, the Alpha and the Omega, You fashioned it all!
From earth we see the tiny diamond lights, but Hubble Telescope brought us up close and personal with some of the stunning beauty that exists in space. I think, Father, You are excited to see us discover the gifts You fashioned and then hid in far reaches of the universe for us to find and enjoy~ kinda like an Easter egg hunt when we were kids. Our Father God's love extends to each of us.
Easter egg hunt~ perhaps not everyone grew up with this: part of the Easter celebration was a teaching for children about how Jesus resurrection signaled our new birth. Symbolically an egg represents a birth as a chick emerges breaking the shell and entering life outside the tomb. Part of the ritual involved coloring the cooked eggs with pastel colors of dye. Then on Easter morning the eggs were hidden for the children to find~ thus 'Easter egg hunt'.
If we could imagine how huge is our Father God's love for us, we would be overwhelmed. My friends, seek His face, His character, His love. He is not harsh or hard, He is just, kind and caring as Jesus said:
Matthew 11:29-30 (AMP)
Take My yoke upon you and learn of Me, for I am gentle (meek)
and humble (lowly) in heart, and you will find rest (relief and ease and refreshment and recreation and blessed quiet) for your souls.
30 For My yoke is wholesome (useful, good—not harsh, hard, sharp,
or pressing, but comfortable, gracious, and pleasant),
and My burden is light and easy to be borne.
Jesus expresses God love to us. That incredible love includes salvation and the presence of God Himself indwelling us.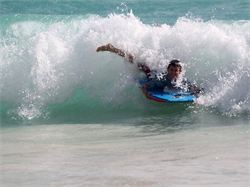 If we accept the gift Jesus died to give us, we can be reborn a new creature and experience the indwelling of God Himself. Life becomes an exciting adventure with God.
Have you begun this marvelous journey with your Creator? Today is a great day to accept His gift and join with Jesus in a Spirit filled life!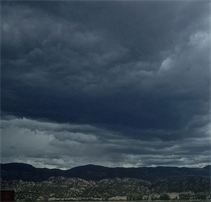 Saturday morning before Easter; the sky is grey. The tomb is dark. What is behind the rock door? You Jesus went to hell to claim Your victory~ the keys of the Kingdom, keys of life and death.
Revelation 1:17
"Don't fear: I am First, I am Last, I'm Alive. I died, but I came to life,
and my life is now forever. See these keys in my hand?
They open and lock Death's doors, they open and lock Hell's gates.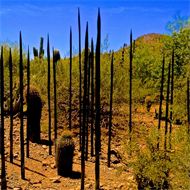 Jesus, it must have been during this time that You went to hell to claim your prize. Of course this is pure speculation, but on this day You were preparing to make Your emergence into the world as our Risen King! But Your friends and loved ones only knew You were gone from them, that behind the rock was a lifeless body where once the tender loving teacher use to live. The darkness of loss and abandonment was in their hearts. Mourning together in their grief they gathered to try and comfort each other.
Saturday for them was sadness.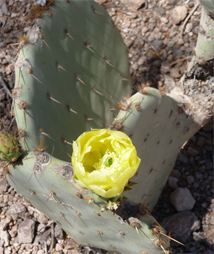 Today we know this is a victory day, that Easter morning Jesus came out of the tomb fully alive in a resurrected body with holes still in the hands and feet where nails once were driven. We see the future, so to speak, knowing the past happenings. Jesus took our beating, our punishment for the sins in our life, so that we could live victorious lives on earth and walk into heaven when our days were done.
Jesus, You conquered death for us. Our spirits now live free from satan's hatred; oh he still tries to tempt us from God's way, but the closer we build our relationship with our God of love and goodness, the more difficult it is for evil to draw us away.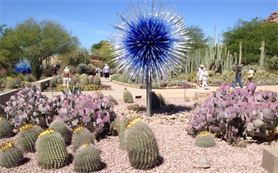 Everyone who accepts Jesus' gift of salvation and invites Him to be Lord of their life will free themselves too. You can be free to live the life God designed for you, to be the person God created you to be.
Have you abandoned yourself to God yet? Have you chosen to be all you can be?
A a peaceful pink/orange sky greets the morning with sun not quite risen, but as it continues its assent to the horizon intensity increases. The reds and oranges of the glory of the Lord fill the skies.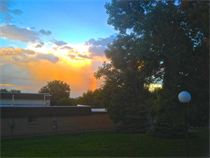 I imagine Easter morning long ago when Jesus rose from the dead. In my mind the stage is quiet until the large boulder closing the tomb moves seemingly by itself. Brave Roman soldiers are frightened and flee. The one who was dead is now walking forth in light from the dark tomb.
I imagine being there that day! What joy fills my heart to see my friend and master alive once more! I rejoice in the familiar smile upon His face and the shining kindness of His eyes. He has completed His work.
Well, its 2015 now, but as this wonderful day of celebration nears, the same joy rises like fizzing bubbles inside me. The world is in a mess, but the power of Jesus resurrection is alive with hope. It is my same friend and master still alive Whom we greet this day. The work He did, the suffering He endured is past, but the affect remains! He freed me from satan's clutches, and now I know the wonder of having an intimate relationship with my God Whose love for us all brings light to so many dark places in life.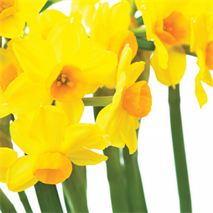 Easter morning, so full of colors, makes me want to dance and sing. Our world has problems, yet God reigns above them all, and the brilliant light of His love will always outshine all challenges! In confident trust I bring the difficult situations, the emotional pain, the broken places in me all to Him, knowing as He raised Jesus, defeating death, He will raise all my trials to victory too. Best of all I get to spend eternity with Him!
He can do the same for you and for all those living upon the earth! This Easter is a great time to accept the marvelous gift He offers you! Rejoice!
The Last Supper~ Jesus celebrated it with His friends~ all save one betrayer. We celebrate with Jesus His life and His death and resurrection. Even today Jesus invites us to dine with Him and remember the new covenant He is establishing with us for all eternity.
Then knowing what is about to come upon Him, Jesus heads to pray for strength in the Garden of Gethsemane. (In Hebrew~ geth-shemen meaning "oil press". Perhaps symbolic~ as the precious oil pressed from the olives in His day, Jesus life was pressed out of Him that we might have His anointing oil of grace for our lives today.)
That night and the next day became a period of excruciating torture for Jesus. They flogged Him beyond recognition with many tonged whips having sharp objects tied on the ends. These dug flesh off the bones and Jesus received 40 such lashings. They mocked Him with a crown of thorns pounded into His skull.
Then he was made to carry the heavy tree of the cross arm up to Golgotha, the place of the skull. He could not do it alone, so soldiers commandeered Simon to help. They cast His bloodied body down upon the cross and nailed large nails thru His wrists severing the tendon that goes to the shoulder. Then they pounded a large nail thru the arches of His feet, one on top of the other, into the cross.
Jesus hung fighting for each breath in terrible agony for three hours (Have you ever been in excruciating pain? How long could you stand it?) Most of His precious blood was drained from His body. Finally it was finished, our debt paid in full, and He gave up His spirit to the Father.
On the third day Jesus rose from the dead! Death was defeated! Jesus is alive!
It is our sin that separates us from God. The hideous punishment endured by Jesus for us became the bridge of rejoining. Because of what Jesus' love did for us, we are able to embrace His love-gift and see our sins flushed away as we become new creatures. Yes, new creations. Our old sin nature dies, and we are reborn with God's nature, His DNA, in us making us truly His sons and daughters. This opens the door to His throne room of relationship.
Father God invites us to come close and enjoy a new communication with Him, experiencing His love!
Jesus' suffering paid our sin debt. We are now free to enjoy a life of victory and close relationship with God in this life and in eternity.
Jesus bloody suffering bought that for you and me. How can one not accept this gift?
This last month or so Jesus has been leading me on little journeys in the mind and teaching me through them. This day I learn about Easter:
Jesus says, come swim in the sea with me. As we walk into the waves I am confident in Him. "Follow me", says He, sinking under the surface. Holding my breath, I dive down into the waves. Down farther goes Jesus. By now I need air and must go up not down. "Come", He calls, "let Me sustain you". Whoa, this is oxygen we are talking here. Do I trust my Lord and God, or do I see only through the natural worldly logical eyes? Do I trust Jesus with my life or not?
"Jesus, I trust You." I swim down to Him releasing my breath to the sea. No worry, no pain, just trust Him with my life. He takes my hand, "Come and see the plans I have for you." What can You have for me under the waves, Lord? "Trusting in Me brings many rewards." Jesus smiles. "Look up." In obedience I turn on my back and am awestruck by a crystalline light shining in/through the waters pulling, drawing me up. I am surrounded by the light of the precious presence of God. Wonderment. Resurrection. Rebirth. Baptism.
Releasing my all to Jesus, my breath of life I gave to Him, and I am reborn. Total trust I give to Him and I am cleansed in every cell of my body, and every part of soul. Fill me with the wonderment of You, Jesus, being in every part of my life. You are the One and only God Almighty; You gave Your all for me, now I give my life to You. You live Your life in me~ It's no longer I who live, but You who lives in me.
Philippians 4:4
Rejoice in the Lord always
[delight, gladden yourselves in Him];
again I say, Rejoice!
Easter. We celebrate Jesus resurrection from the dead, but not only Jesus' but also our resurrection from death as well! We die to our old sin-nature letting go all that was of evil within, releasing it out of ourselves and rising up to the light of our new godly-nature with Jesus.
At Easter we celebrate our freedom of new life reborn into God gaining our Father's DNA, able to partake of all the promises of the Word, Jesus.
We now live in joy and peace.
Philippians 4:77
And God's peace [shall be yours, that tranquil state of a soul assured of its salvation through Christ,
and so fearing nothing from God and being content with its earthly lot of whatever sort that is,
that peace] which transcends all understanding shall garrison
and mount guard over your hearts and minds in Christ Jesus.
Have you been reborn into God's DNA yet? Easter is the perfect time to make this choice
Happy Easter. Glory! Glory!
"It is finished" were Your last words on the cross. Now there is an empty tomb, because You have risen from the dead. Jesus, Thank You! Thank You! You are our awesome Jesus! You have enabled us to spend eternity with You. You have given us Your joy right here on earth. You have given us Holy Spirit to live within us to guide us and to remind us of Your words, to give us wisdom and a connection with You and the Father! What amazing gifts!
You are the King of Kings and we have been translated into Your Kingdom.
Colossians 1:13-14 (AMP)
[The Father] has delivered and drawn us to Himself out of the control
and the dominion of darkness and has transferred us into
the kingdom of the Son of His love,
14 In Whom we have our redemption through His blood,
[which means] the forgiveness of our sins.
I love living in Your Kingdom! I ask for help in learning how to be Your ambassador to the world. Jesus I need Your love filling me and pouring out of me to others.
Jesus, we are so grateful to You for being our Savior! You suffered so much for us, but now You are back to Your rightful place at the Father's right hand, and You bring us with You. Such wonder! I am awed by Your generosity, amazed by Your glory! Like a father tossing his giggling toddler in the air, You lift me up high, like a mighty wind and I dance among the clouds in joy! Thank You Jesus!
SEARCHING FOR A CLOSER WALK WITH GOD
DIGGING DEEPER
Sometimes the terrible awesomeness of God hits me and sends me reeling into deep meditation. It always carries its reward of a new closeness with my God. It happened this morning. In the beginning I was distracted with my mind wandering here and yon. Then I 'woke up' and commanded it to return. God is so good! Holy Spirit began to lead me in prayer.
Sorry, my Lord. I come to our meeting this morning with scattered thoughts; help me, Lord, to rein them in. That You even desire to meet with me is so amazing! Deep breath. Moses asked God, "what shall I say when they ask 'Who sent me'?" You responded, "Say the Great I AM sent me." You, God, are not hemmed in by time. For You there is no 'was, will be', there is only I AM. Before You I bow down my heart, my 'who I am' I submit to You; help me become who You created me to be.
Exodus 3:13-14 (AMP)
13 And Moses said to God, Behold, when I come to the Israelites and say to them, The God of your fathers has sent me to you, and they say to me, What is His name? What shall I say to them? 14 And God said to Moses, I Am Who I Am and What I Am, and I Will Be What I Will Be; and He said, You shall say this to the Israelites: I Am has sent me to you!
Footnotes: Exodus 3:15 To know the name of God is to witness the manifestation of those attributes and apprehend that character which the name denotes.

Can you feel the depth of that name? 'I AM' signifies so much ~ timelessness, absolute love, supreme power, unimaginable expansion ~ an incomprehensible being, totally surrounding. There simply are not words to express the grandness of Who our God is. HIS LOVE FOR US S SO APPARENT IN HIS WORD!
Psalm 91:14 (AMP)
Because he has set his love upon Me, therefore will I deliver him; I will set him on high, because he knows and understands My name [has a personal knowledge of My mercy, love, and kindness—trusts and relies on Me, knowing I will never forsake him, no, never].
Isaiah 52:6 (AMP)
Therefore My people shall know what My name is and what it means; therefore they shall know in that day that I am He who speaks; behold, I Am!
Indeed my God! You are the great I AM! This measures so deep and so high and so wide. You revealed Your staggering magnificence to David, and it comes out here:
Psalm 139:1-10
O Lord, you have examined my heart
and know everything about me.
2 You know when I sit down or stand up.
You know my thoughts even when I'm far away.
Even when it's my mind traveling on tangents.
3 You see me when I travel and when I rest at home.
You know everything I do.
4 You know what I am going to say
even before I say it, Lord.
5 You go before me and follow me.
You place your hand of blessing on my head.
6 Such knowledge is too wonderful for me,
too great for me to understand!
7 I can never escape from your Spirit!
I can never get away from your presence!
8 If I go up to heaven, you are there;
if I go down to the grave, you are there.
9 If I ride the wings of the morning,
if I dwell by the farthest oceans,
10 even there your hand will guide me,
and your strength will support me.
You are always with me.
You will guide me.
You will always be my support. Your strength
upholds me, protects me, supports me.
Lord, You are so good! What a privilege to know You! Thank You that You continue to grow me closer to You. Thank You! I love being together with You, my Lord.
/